Hear directly from alumni and recruiters
Our exclusive employer webinars provide insight into graduate recruiting opportunities and work at top companies, featuring alumni testimonials and info directly from graduate level recruiters
Upcoming Webinars
Our webinars are free to all registrants - complete the registration forms to receive your link to the broadcast page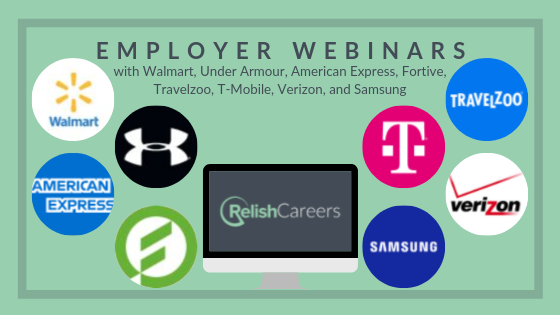 2019 RelishCareers Employer Webinar Series
The RelishCareers Employer Webinar Series provides unique insight into recruiting timelines and logistics, hiring criteria, different career paths, and a perspective on a day-in-the-life for graduate alumni at the organization.
.
Featured employers include: Walmart, Travelzoo, T-Mobile, Verizon, Samsung, Fortive, American Express, Under Armour and potentially more!
How to Get a Management Consulting Offer
Presented by RelishCareers and The MBA Exchange, this webinar features veteran McKinsey and BCG consultants from The Consulting Career Academy who will share their insights, advice, and best practices for incoming MBAs interested in the consulting industry.
Join Stephanie Horn (former McKinsey and Kellogg Alum) and Matthew Strickler (former BCG and Kellogg Alum) as they run through the recruiting timeline, networking best practices, and case study secrets you'll need to know to land a top-tier consulting internship.
Recent Webinars
The webinars can still be accessed for free by registering - complete the registration forms to receive your link to the broadcast page
The MBA Recruitment Process
This webinar from the RelishCareers team will bring together recruiting staff and MBA alumni from a variety of top firms - including Under Armour, Verizon, Walmart, and more - to discuss their personal experiences with the recruiting process and share unique insights into their work as graduates from top MBA programs.
- A "day in the life" for MBA alums at top firms
- Industries and roles available to MBA students
- Firsthand testimonials about the MBA recruiting process
Getting In & Getting Ready
For applicants and admitted students headed to graduate business school next fall, the team at RelishCareers presents a series of exclusive conversations with MBA Admissions Consultants, Career Coaches, and other b-school experts.
Learn how best to build a target list, optimize your applications, select the best-fit school after admissions decisions, and prepare yourself for two intense years of business school.
MBA Recruiting for International Students:
How to Thrive in Your First Three Months on Campus
Learn how to get noticed by American employers, improve your American-style networking skills, and navigate H-1B sponsorship. We'll cover what you need to do to succeed in your MBA internship or job search in the US or abroad.